Category Archives:
Uncategorized
Reed and Maya invited us to Oregon to celebrate their story. From morning yoga to a marco-polo first look, we got to witness firsthand the beginning of the incredible adventure they have started together. Not only do we love their film, but feel so connected to them as friends and hope you enjoy what we...
After months of not blogging, we are back. Brett and Erica invited the Capture crew down to Iowa to celebrate their story. Brett's family moved an old barn onto their property to host the rehearsal dinner, no big deal… They executed the German log cutting tradition with ease, setting the tone for an incredible weekend....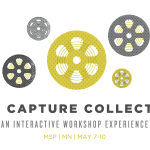 The Capture Collective is a 3 Day Workshop focused on taking you to the next level in film making. This year we are limiting the Collective to 5 attendees, so each person gets one-to-one attention the entire time. We will be exploring light, sound, motion, workflow, inspiration, business, and most importantly, how to tell better stories....
Weddings are a culminating event. They celebrate a story that goes far beyond the scope of a wedding day. For David and Amanda, their story started in the 5th grade. Not many of us can attribute too much to our 5th grade relationships (for me it was still about kickball and Boyz to Men), but...